Features
Extreme high impact resistance
Lightweight: 50% lighter than glass
High light transmission
Self-extinguishing
Benefits
Freedom in design
Savings on installation costs and electricity
Contributes to obtain Leed credits
Energy savings thanks to its high light transmission and insulation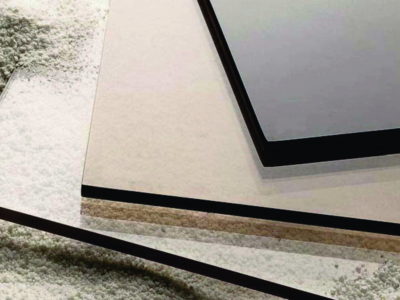 Mono GP
This is the simplest solid polycarbonate product from our product range. Ideal for any type of application where extreme impact resistance is a must but the UV Protection is not fundamental.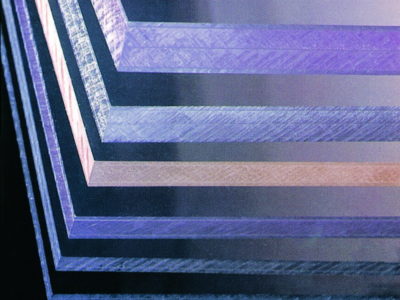 Mono SL
Our Mono SL Polycarbonate offers the same impact resistance as Mono GP with additional one sided UV protection, resulting long lasting product which protects the inside areas against the harmful rays.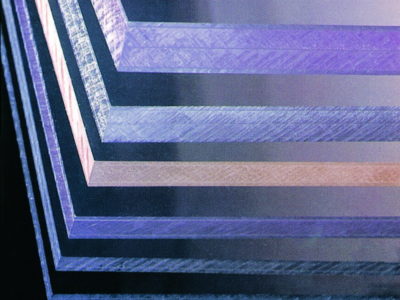 Mono AR
Offers double sided UV protection with additional finish against common scratches in one or both sides.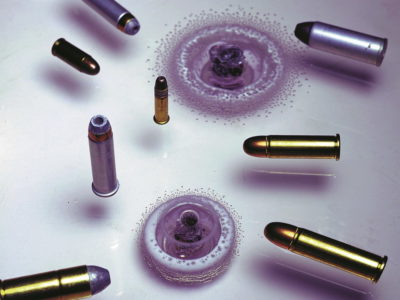 Mono AB (Anti Ballistic)
Mono AB is employed wherever special protection is required for persons and/or objects. These include high-level security areas such as banks, jeweler's shops, prisons,court buildings or night desks. Other fields are possible targets for vandalism, e.g. museums or buildings with large glazed sections. Mono AB offer clear economic and functional advantages over bullet-proof glass.
Common uses of Polycarbonate solid sheets:
Macrolux
GP
SL
AL
Macrolux
GP
SL
AR
Architectural roofing

Division and cancel

Industrial roofing

Domes

Roofing pools

Graphics Arts

Arcs canyon

Industrial parts

Windows

Protection artworks
Technical Specification of Solid Polycarbonate Sheets
The solid polycarbonate panels satisfy the most important construction codes like:
CC-1* Category for construction applications (BOCA, ICBO, SBCCI)
Underwriters' laboratory flammability standards (UL 94 and UL 972) for glazing materials.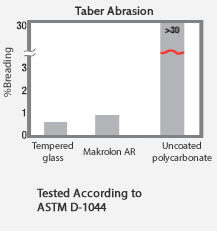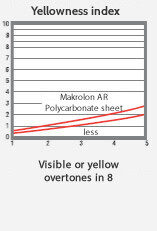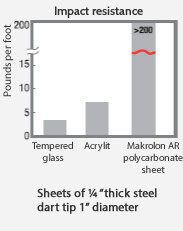 Chemical Resistance / ASTM D-1308
Chemical
Resistance Time
Acetone
> 24 Hours
Ethylene dichloride
> 24 Hours
Unleaded petrol
> 24 Hours
Hydrochloric acid (10%)
> 24 Hours
Methyl alcohol
> 24 Hours
Methylene chloride
> 24 Hours
Ketone, methyl alcohol
> 24 Hours
Nitric acid (100%)
> 24 Hours
Sodium hydroxide (19%)
> 24 Hours
Sulfuric acid (1%)
> 24 Hours
Toluene
> 24 Hours
Isopropanol
> 24 Hours
Kerosene
> 24 Hours
THERMOFORMING
To thermoform Macrolux Solid sheet is important pre-dry in a dehumidifier oven (circulatory air). The pre-drying time depends on the thickness of the sheet.
Drying Time

Sheet thickness
Maximum temperature of 121 ° C
Maximum temperature of 82.2ºC
2.00 mm
2 Hours
4 Hours
3.00 mm
6 Hours
14 Hours
4.50 mm
12 Hours
30 Hours
6.00 mm
24 Hours
50 Hours
Cold bending
Macrolux Mono GP and SL polycarbonate sheets can be bent cold until a minimum curve radius depending on its thickness. As a rule, the radius of curvature should be equivalent to 100 times the material thickness. R = TX100
R = TX100
Sheet bending based on thickness
Sheet thickness (T)
Minimum bend radius (R)
2.00 mm
20 cms
3.00 mm
30 cms
4.50 mm
45 cms
6.00 mm
60 cms
9.50 mm
95 cms
12.70 mm
127 cms